Mushroom (Broadband Technologies)
### Under contruction ### and incomplete ###
Three Waves of Change℠
Executive Coaching Case Study


A New CEO Challenged to Lead the Acquired Business from the "Unbridled Rapid Growth" Stage of Development to the "Disciplined Growth" Stage: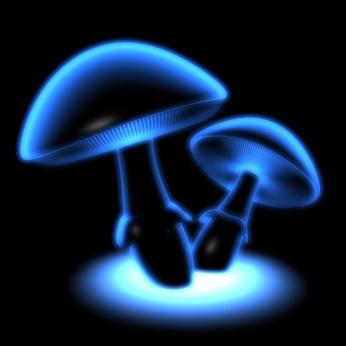 Mushroom* (Broadband Technologies)

"There's a fungus among us"
"Connections that make me a fun guy."
*Disclaimer: This case study is based on one or more actual coaching and consulting assignments we were engaged to deliver. All identifying information of the client businesses have been altered, with the exception of the essential leadership, management, and organizational change issues that the new senior executive and his or her team faced with the intent to guide the business to the "Sweet Spot" of the Business Maturity Cycle. The company name, names of the people involved, and the products or services identified are all fictitious. Any direct similarity with any existing or past business is coincidental, unintentional, and probably reflects the common occurrence of these issues facing new senior executives.

Introduction
Mushroom (Broadband Technologies): A case study of the coaching and consulting interventions used by the new CEO and his executive team to manage the changes necessary to move the business along the Business Maturity Life Cycle from the "Unbridled Rapid Growth" stage of development to the "Disciplined Growth" stage.
To fully learn from and appreciate the value of this case study of a senior executive transition supported by executive coaching, it is suggested that you have at least a working understanding of the Business Maturity Life Cycle Model and the typical challenges inherent in each stage of maturity. Specifically, it would be helpful to have an understanding of the business performance and change management challenges inherent in the "Unbridled Rapid Growth" stage of development as context for appreciating the continuing assessments and interventions led by the new CEO in this case study.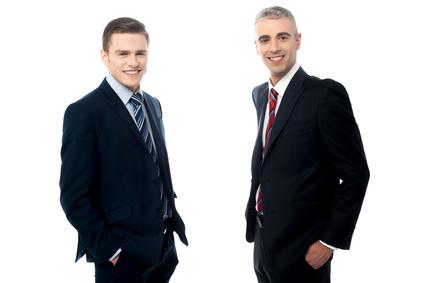 Mushroom is a multinational technology company that designs and manufactures broadband wireless internet transponders for automobiles, big rigs, passenger vans, busses, and commuter trains. Using high capacity satellites, high altitude balloons, and drone technology, the Mushroom devices provide both a link to the internet and an in-vehicle router for all of the passenger's devices. Started at an incubator at the University of Colorado - Boulder, the company was founded by Charles Rutherford and Maurice Jackson, two electrical engineering graduate students who were privately referred to by their early employees as "Chuck" and "Moe." Moe was the visionary obsessed with finding the solution to these opportunities and Chuck was a "doer" who loved to take Moe's ideas and try to make them tangible and real.



From Fertile Idea to Start Up
Fertile Idea

Stage



The founders' original vision was to create the proprietary technology that would allow automobile drivers and their passengers to access high speed broad band internet while in motion or stationary. Beyond the current ability to send emails by their hand held devices, these passengers could access high definition streaming video for entertainment, education (imagine that), and video conferencing outside of urban areas and while they were in motion. With the successful proof of concept in test markets of this "killer" technology, the hope was that with the right fertile infrastructure conditions, Mushroom could grow anywhere, with little care and feeding, and go viral.

This startup was not born in someone's garage, but rather in the supportive incubator environment associated with the University of Colorado - Boulder. The technology corridor in the Boulder to Denver area provided other consulting and technology-based resources that could nourish the right application.
Start Up Stage

Like all start ups, the company had many false starts and product launch dead ends. There were the usual unanticipated design flaws, challenges in quality in the pilot manufacturing and assembly processes, and difficulty negotiating satellite signal band width. But eventually, Mushroom began to produce a consistent line of 35 products at different price points and capabilities. Once they achieved a consistent track record with early adopters and the technology press began to review their products as technology leaders in highly visible articles, sales in the U.S. took off. Families and car pools could have multiple links for the passengers in their cars while traveling without everyone needing to have their own expensive cell-based transmitter.

From "Start Up" to "Unbridled Rapid Growth"

Charles and Maurice soon became giddy with excitement as their once struggling company was now growing leaps and bounds in the U.S. If they could be this successful in the U.S., why not also enter the markets in Europe, Hong Kong, Singapore, or Asia for that matter? Why just automobiles? Why not big rigs, passenger vans, taxis, and busses? While annual sales hovered near $400 million dollars, they still had limited resources to pursue all of these markets. Instead, they decided to "go with the flow" and let the responsiveness of the markets determine where they would focus their resources on market entry, licensing, and the product modifications necessary to comply with the requirements of these new markets.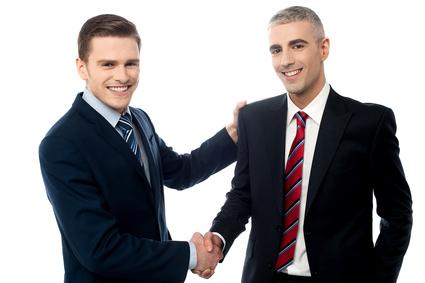 The Problems Typical of the "Unbridled Rapid Growth" Stage

The initial success of Mushroom did not go unnoticed. They tended to be the "first to market" as a technology leader for the consumer automobile, big rigs, limos / taxis, passenger van/ bus, and commuter train market segments and dominated market share in all of them in the U.S.Competitors using technologies other than Mushroom's for similar products and services began to broaden their product and service offerings to mimic Mushroom's capabilities. Mushroom began to deal with possible patent infringements and aggressive advertising campaigns on multiple fronts.

At the same time, the hardware and software technologies were advancing so rapidly that Mushroom's products that were being shipped from their contract manufacturers in Asia were no longer "cutting edge" and were in some cases only partially tested. Problems with inconsistent quality and emerging bugs that needed to be resolved after product launch, which were tolerated by early adopters, became real problems with main stream consumer end users. As a result, the brand began to become tarnished in the broader market place from technology reviews and credible bloggers.
These complexities began to distract and dilute the efforts of key members of the business team. Charles and Maurice began to worry that they did not have the time and resources to cover all of the bases and that they were beginning to lose control of the business' ability to compete, now that their technology leadership advantage was eroding.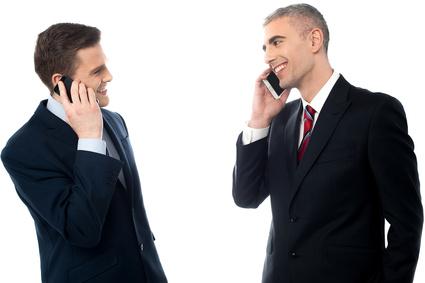 The Acquisition of Mushroom by Omniscient

Omniscient was an established major player in the internet space and had been watching Mushroom carefully. Mushroom appeared on Omniscient's radar shortly after Mushroom's initial proof-of-concept in the retail consumer market. Omniscient was also looking for the receptivity of the car manufacturers to entertain an OEM offering as part of a premium technology package for its minivans, crossovers, and SUVs, likely to hold more users. As it became apparent that Mushroom was struggling and not advancing, Margaret Peel (Maggie), CEO of Omniscient, concluded that Mushroom was ripe for acquisition and could become a key asset for Omniscient as a play to enter more consumer markets.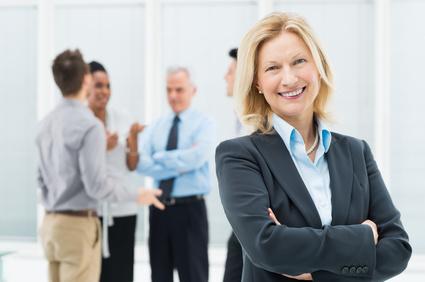 Omniscient had acquired a number of smaller technology startups over the past fifteen years. Most of these acquisitions involved acquiring the ownership of the start up's technology and absorbing a relatively small group of engineers and sales people who were happy to join a larger, more established company and now be eligible for Omniscient stock options and stock grants. In contrast, Mushroom represented the largest free-standing business that Omniscient had ever acquired, involving over 400 employees worldwide, many established relationships with foreign manufacturers in multiple countries, established relationships with major retailers in multiple countries, challenged relationships with automobile manufacturers, and a brand already highly visible in many of the consumer markets. This was not going to be a simple absorption of the Mushroom brand into the Omniscient corporate body under the Omniscient brand as a technological enhancement to Omniscient's current products and services.

Maggie hoped that an influx of cash and capital as well as mentoring from other Omniscient executives experienced in leading the rapid growth of a technology company would enable Mushroom to hit a "reset button," readjust its growth vectors, and begin to flourish again. Maggie's strategy team projected that Mushroom could easily be a 5 to 10 billion dollar (USD) annual revenue, profitable business in the next five years if properly managed. In the interim, there is a high sense of urgency to hit the 2 billion dollar mark in 18 months.

The Continuing Crises of the Unbridled Rapid Growth Stage

After a rocky, stutter step-filled first two years with intermittent guidance by Omniscient executives, Mushroom's revenues and profitability barely improved. Charles and Maurice were beginning to chafe under the frequent business reviews by impatient Omniscient oversight executives. The founders felt that Omniscient was attempting to impose rigid management processes and systems on them (and Mushroom) that were more appropriate for Omniscient's more mature B-to-B products and services, but were anathema to Mushroom's previous free-wheeling style of aggressively pursuing emerging opportunities in current markets and developing opportunities in new foreign markets. It wasn't the fun, adrenaline rush, swarming behavior that they enjoyed as a smaller company. Chuck and Moe began to think that maybe it was time to start a new company and totally cash in their chips.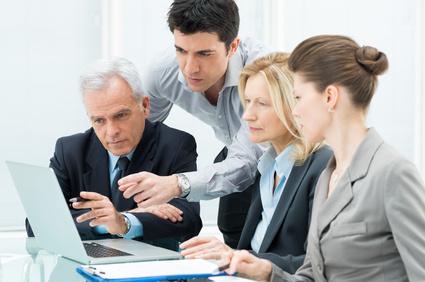 The Ejection of the Founders

Concurrently, Maggie and her top executive team had concluded that Charles and Maurice did not have the executive or leadership capabilities to grow the business beyond its current rapid growth stage achievements. After two years of repeated efforts to enable Charles and Maurice to step up to manage the business in a more disciplined way, Omniscient's patience had finally run out. The senior Omniscient executive team concluded that Chuck and Moe were best as "sprouts" and not "green thumbs" - people good at planting many seeds and start ups but unable to sustainably scale existing product lines and services. Mushroom needed a new CEO who could lead the transformation of the business from the "Unbridled Rapid Growth" stage of development to "Disciplined Growth" stage, and he or she did not need the distraction or possible disruption of having the founders still walking the hallways and creating confusion about loyalty to the new CEO.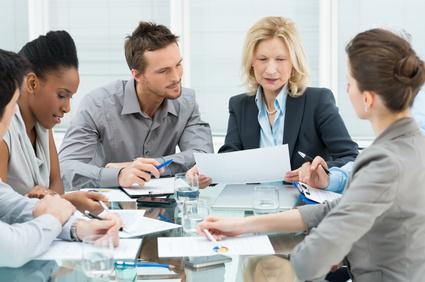 The Insertion of New Leadership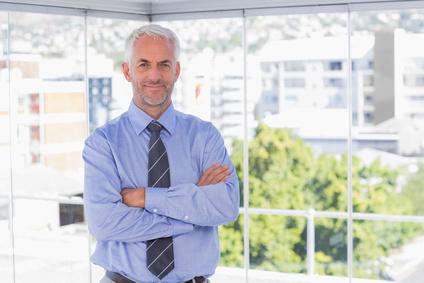 Behind the scenes, Damon Haas had been quietly recruited by one of the major global executive search firms and had been vetted by Maggie and each of the members of her top executive team. Damon was born and raised in the Netherlands and his early business experience was in Europe, one of Mushroom's key growth markets. As an emerging executive for GE, he lived in Singapore and Hong Kong for more than fifteen years, developing relationships with key electronic component manufacturers in China, Taiwan, Malaysia, and other Asian countries. He would understand the challenges facing Mushroom's current and future contract manufacturing.
Damon's Individual "Momentum"
Damon's last CEO assignment was to try to turnaround and renew the Horizon Company whose PDA (Personal Digital Assistant) technologies were now quickly becoming outdated, or to liquidate the business and derive whatever value they could out of licensing or outright sale of the rights to some of their still viable technologies. Brought in too late, Damon could not turn the company around into related competitive businesses. The experience, however, taught him to both be aggressive in peeling back the onion to determine why stakeholders in the business resisted change and to also hold a continuing healthy skepticism of his own perceptions, assumptions, and mental models about the business and its people. Some of the people he thought he could depend on failed to deliver, and other executives, who had previously been unremarkable performers, rose to the occasion and achieved amazing accomplishments.
The Curse of Perceived Unbridled Rapid Growth Stage-specific Success
If predicting and managing change was difficult in the Horizon Company with a clearly visible burning platform, Damon imagined that managing change in Mushroom with a recent history of rapid growth and perceived success could be even more difficult. Even though he knew Mushroom was situated in much more favorable conditions, he had no illusions that transforming Mushroom into a disciplined growth business would be anything but a challenge.
Early Due Diligence During the Recruitment Period

During the Recruitment Period, Damon began quietly calling his network of industry contacts and tried to gather whatever intelligence he could on Mushroom, Omniscient, Maggie, and Maggie's key executives. Most of these contacts were external or once-removed stakeholders including suppliers, contract manufacturers and a few major retail stakeholders. But Damon had difficulty finding current or previous insiders that he could talk to without betraying the reality that he was a candidate to replace Chuck and Moe.

After several months of informal investigation and multiple "off the record" telephone discussions, Damon concluded that Mushroom was not damaged goods, but a relatively good opportunity for transforming an "Unbridled Rapid Growth" stage business into a "Disciplined Growth" stage business, and maybe even a "Sweet Spot" stage business.
Potential Clash of Two Different Stages
The biggest challenge would be to maintain enough space and independence from Omniscient to allow Damon to manage his business according to the challenges of its "Unbridled Rapid Growth" stage. Omniscient, in contrast, was clearly in the "Middle of the Competitive Pack" stage of the business maturity cycle and was showing early signs of slipping into the "Resting On Past Laurels" stage. Damon was concerned that Omniscient would apply the performance objectives and administrative controls typical of the "Middle of the Pack" or "Resting on Past Laurels" stages, which would stifle or potentially derail the transformation of Mushroom.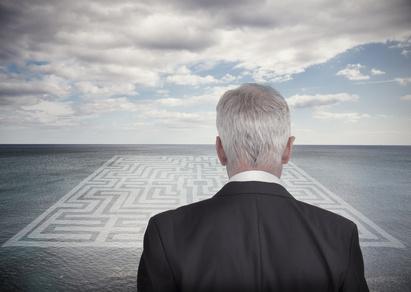 Entry and the "Taking Hold" Period

Damon's entry came swiftly after the announcement of the resignations of Charles and Maurice in early April. The morning after Chuck and Moe made quick but emotional departures, Damon arrived to receive the politically correct and feigned appreciative greetings of many of the employees. Everyone was in a "wait and see" mode.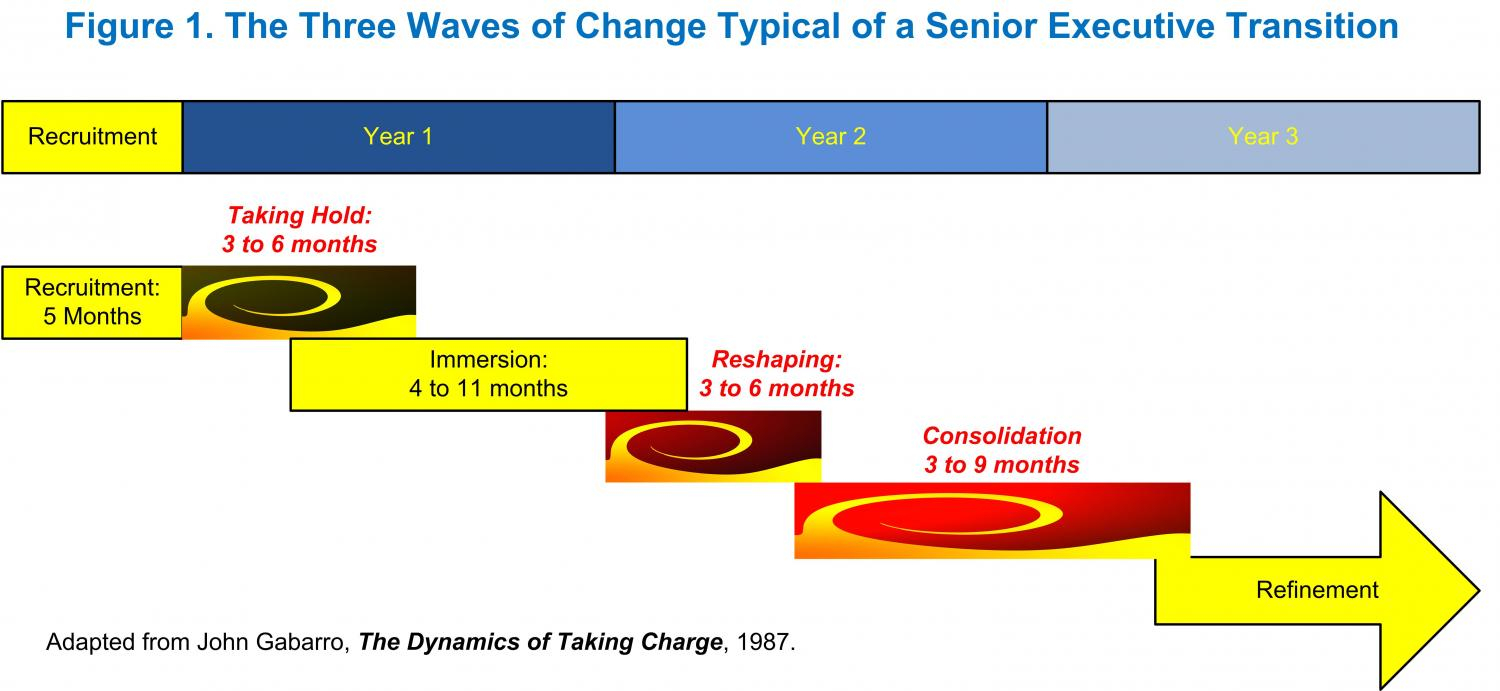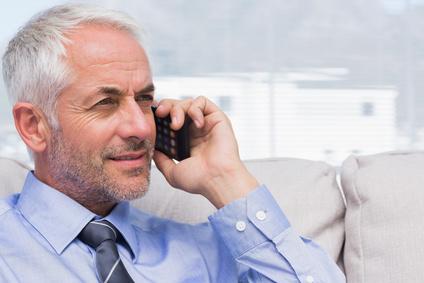 Initial Key Stakeholder Analysis



Now that Damon was the legitimate CEO of Mushroom, he began an aggressive onboarding process. By the time Damon had engaged me as his executive coach and consultant, he had interviewed over 100 stakeholders related to the business. He spoke with key retail channel account executives, suppliers, contract manufacturers, distributors, and even arranged to visit a sample of retail outlets to talk with consumer end-users in the stores. He had also carefully selected key stakeholders inside of Mushroom and Omniscient to obtain their assessments and evaluations of the business, while maintaining his own independent point of view.

Damon had completed his first pass at a stakeholder analysis, focused more on each stakeholder's perception of the business than assessing their motives and key "hooks" to influencing each. Damon would do that later through the coaching process as the needs to influence specific others became more apparent during the diagnostic and change processes.

A Sense of Urgency



It was the end of May. Maggie set a milestone that Mushroom needed to have a new business strategy reviewed and approved by January 1, the beginning of their fiscal year. Omniscient was a publically traded company, and Maggie wanted something definitive to say about Mushroom at her analyst meeting coinciding with the release of Omniscient's annual report.

Coaching and Consulting During the First Wave (Taking Hold)

Developing an Initial Diagnosis and Mental Model of the Business

In my introductory telephone discussion with Damon, it was immediately apparent that he had a very clear sense of how he wanted to manage the journey of getting to the creation of the new or renewed business strategy by January 1. He wanted me to help him design and implement an iterative process that engaged the senior executive team and periodically engaged the majority of the employees. By investing time in building employee buy-in, Damon wanted to "go slow to go fast." Investing the necessary up front time to develop buy-in and ownership would later grease the skids for rapid implementation of the necessary changes.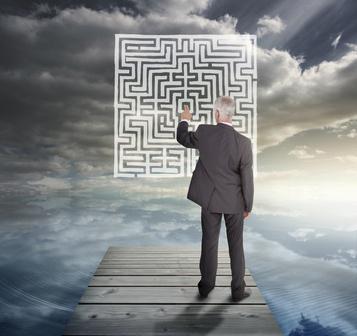 Damon's initial diagnosis of the current state of the business was that it was essentially still operating as an Unbridled Rapid Growth company that lacked the necessary structure and processes to support sustained profitable growth and scalability. From Damon's perspective, most of the organizational and management process changes that should have occurred when the business hit the $400 million to $500 million annual revenue mark had not been made.

Even to the point of Charles' and Maurice's departure, the business had often been managed more like a Unbridled Rapid Growth business. As best a Damon could tell, Charles and Maurice each had somewhere in the range of 30 to 40 direct reports, with many managers reporting to both Chuck and Moe. Many were not sure who they were reporting to based on which ad hoc assignment or accountability they thought they currently had or had recently been assigned. The vision and direction of the business was driven exclusively by the founders, with Moe identifying any emerging opportunity of any significant size to pursue and Chuck micromanaging how each opportunity would be pursued.

Chuck and Moe were often not exactly on the same page. Accounts, projects, or sales opportunities were often assigned to any manager who happened to be visible and was willing to accept (often under protest) more work to add to their already overflowing plate. Putting this all in perspective, it was becoming apparent that the business was typically organized around individuals and the individual's assumed, or hoped-for, capabilities or availability rather than a carefully set of thought out processes, roles, competencies, and clear accountabilities.

Damon's Challenge to the Top Executive "Team" and Modeling of Openness and Vulnerability

From Damon's 100+ interviews and review of existing analyses, reports, and documents, Damon prepared a discussion presentation for his initial (pared down) top executive team of approximately 18 people. The presentation was entitled "Time for Change: Positioning Mushroom for Future Disciplined Growth" and was delivered to this team at an off-site meeting the third week of May. This meeting was an opportunity for Damon to make his initial diagnoses and mental models of the business explicit for the members of his current top management team and to have them validate it, challenge it, or otherwise display their understanding of the current state of the business and what changes would be necessary to profitably grow the business aggressively and in a sustainable way.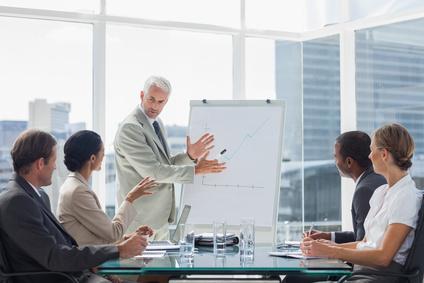 The questions posed to generate discussion among the top management team included:
1. What are the levers of change that we have available as an executive team to scale the business (Damon presented a dicussion model of eight levers)?

2. Given the high expectations of Omniscient for Mushroom's growth ($2 billion in annual revenues in 18 months; $5 billion to $10 billion in five years), this team needs to develop a rolling three year plan that defines where we are going and why. (Damon presented a set of high level components proposed for the contents of the plan).
3. Are we comfortable in developing a well-thought through plan that holds the team accountable for execution?
4. Mushroom is a company that sells globally but it is not really global. (Damon presented six examples of the organizational capability gaps that would need to be filled in order to become a global company - example, Mushroom does not develop product road maps based on local / regional requirements). Are we prepared to invest time, people, energy, and financial resources to be a global company?
5. Product Development - Should Mushroom be known for being a high-volume, first to market commodity vendor or a leading edge technology, high quality solutions company - or a hybrid of each?
6. What should our brand promise be? Are we a "commercial" company selling into a consumer market or are we a true "consumer company?"
7. What is the right organizational structure that is scalable and enables us to clarify roles and accountabilities?
8. Communication - all employees deserve frequent and consistent communication both up and down about the company's performance and their individual performance (vs. the "mushroom treatment" - kept in the dark and fed old decaying information).
9. Can Mushroom's supply chain scale and meet the projected growth? What If we decided to become more global?
10. How do we better manage our people as our #1 asset?
11. Next steps - offsite meeting facilitated by outside firm with homework in advance of the session.
12. Prepare for change.
This meeting set the expectations for what would come next as Damon attempted to lead the transformation of Mushroom from a rapid growth company to a disciplined growth company and the essential strategic questions that would need to be addressed.
Orienting the Coach to Begin the Large Group Intervention Design

To obtain my own feel for the current state of Mushroom's behavior, Damon identified a number of key internal stakeholders that I could interview. After about a dozen interviews, I confirmed Damon's initial assessment that Mushroom was in danger of being stuck in the Unbridled Rapid Growth stage, could prematurely derail, and desperately needed to inject discipline into its management processes and resulting culture.
My interviews revealed some additional worrisome typical self-defeating behaviors in Mushroom that had developed under the leadership of Charles and Maurice. On a day-to-day basis, Chuck and Moe operated very independently. Moe was the "vision guy" and Chuck was the "get it done guy." Their offices were on diagonal opposite sides of the building occupied by many of the managers. On a day-to-day basis, a dynamo of new opportunities and ideas generated by Moe did not always mix easily with a laser-like focus on the execution of current projects led by Chuck.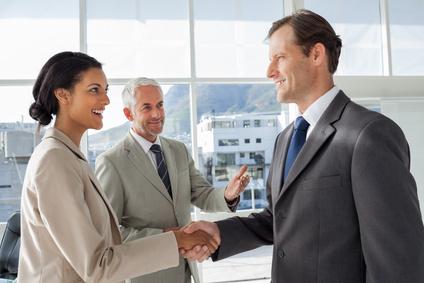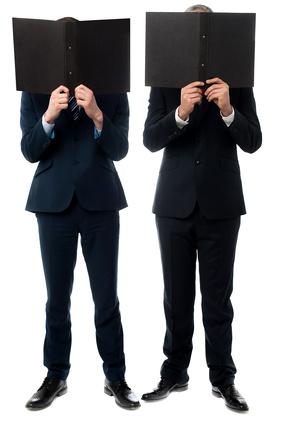 Remnants of the Previous Dysfunctional Executive Swarm

During the rapid growth phase, Chuck and Moe talked only when reacting to emerging immediate problems or exceptions. Mushroom's managers, like small children playing one parent off against the other, had figured out that if they did not get approval from one of the founders for some action they wanted to take, they could go to the other independently for approval. If Chuck felt he could not take on one more thing to supervise, they could go to Moe - who never saw an opportunity he didn't think they should not pursue. ("Who knows what this could develop into?") If Moe didn't think that the project or initiative really warranted his attention, the manager seeking approval could frame the opportunity as just an extension of the things Mushroom was already pursuing and tell Chuck that the project had been discussed with Moe and Moe had not thrown his body in front of it or said "no." If they didn't get the answer they wanted from one founder, they went to the other founder and often obtained implicit or explicit approval. The Mushroom culture had developed the typical start up cultural expectation that, with the best intentions, "if something was not explicitly prohibited, it was probably allowed." If managers were pursuing what might turn out to be a growth account, the guiding principle of asking for forgiveness instead of permission was typically assumed.

Even when Chuck and Moe had developed a minimum set of strategic priorities, managers often behaved as if the priorities did not apply to them. Charles and Maurice had decided that the U.S. and Europe would be the primary markets of focus until the business could consistently exceed the $1 billion dollar annual revenue mark. Asia would require a long-term credible local presence that Mushroom just did not have time to develop. South America would have to wait. Africa was not a target for the foreseeable future. Then the telephone would ring somewhere in Mushroom for an unsolicited call from someone in Brazil inquiring about the possibility of purchasing 10,000 units of product. Four Mushroom people would be on an airplane to Brazil within 24 hours.

These examples and critical incidents were conveyed by current Mushroom managers who were aware of the strategic guidelines and the unintended consequences of diluting Mushroom's efforts or pursuing likely unprofitable sales, but they felt powerless to do much about it.

Damon summarized the general start up-like culture of Mushroom as: "People are going 200 miles per hour with no road map to gauge their activities against."
Because Chuck and Moe had dominated almost all of the important decision-making, roles and accountabilities were really ill-defined despite impressive titles. To say that Damon had inherited an executive "team" would be an overstatement.
As Damon and I listed all of the current typical self-defeating behaviors evident in Mushroom and the needs for basic changes, Damon indicated that none of these issues had been discussed in their entirety among the rather amorphous executive "group." So Damon needed to define who was and was not on the top executive "team." We would need to create a process that allowed Damon to assess how many of those members were both strategic thinkers and change agents who could lead the necessary disruptive and likely painful transformation of the current business processes, structure, and behaviors to implement the strategy. The structure of roles would change, accountabilities would need to be crisp, and executives who could not meet the leadership expectations for the top executive team would be reassigned and replaced.

I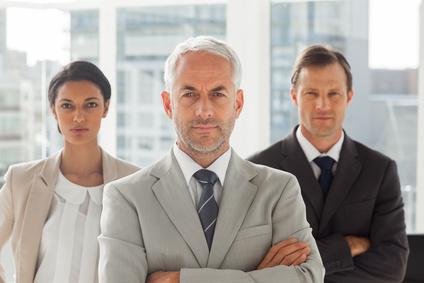 While the rather amorphous organizational structure of relationships was rather flat, it was also very fragmented. Employees did not know how their tasks fit into the larger context, they did not know when they were duplicating the efforts other employees, they did not know how their role contributed to the performance or failure of others, or how their area was interdependent with other employee groups and departments. Instead, they were typically assigned an urgent task to add to their already overflowing plate of other tasks. They were not asked and often not able to recommend improvements because they were so focused on their own immediate task completion.

Damon's Conclusions from the Initial Diagnostic Process

Damon concluded from his own diagnostic review supplemented by my interviews that:
Mushroom needed to make a number of fundamental strategic decisions - and not in what had previously been largely an ad hoc, top-down way.


Mushroom stakeholders needed to develop a common acceptance that we needed to change and develop a shared vision of where we needed to go in the future.


Damon needed to quickly engage a critical mass of Mushroom's senior leaders to implement a more disciplined and clear global growth strategy for the next three years.


Within 90 days, we needed to engage more than 100 key stakeholders in developing a fully integrated global growth plan on a go-forward basis aligned with the efforts of Omniscient.


We could engage the required stakeholders in a short time span if we carved out the time and conducted a series of highly interactive group meetings over the next three months.


Damon would use the process to test the participating stakeholders' abilities to manage the required changes and would select the incumbents for the redefined key roles accordingly.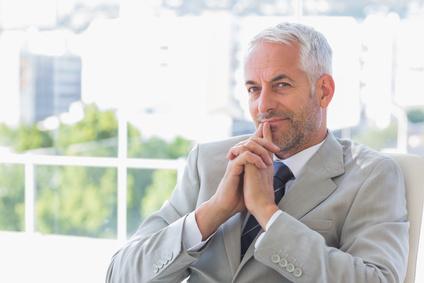 Damon's First Test of the Capabilities of the Top Executive "Team:"
Damon's Request for a Large Group Intervention

It was the end of May and Damon decided that whatever executive team he would put together needed to have a "shell" of a business strategy by the end of August which could then be fleshed out and tested over the next two months. By "shell," Damon meant that the strategy would address basic questions such as:
What is Omniscient's intended role for Mushroom as one of its portfolio businesses? What is the intended strategic contribution to Omniscient's business performance? What should it be?


What is our vision and purpose for being? What does the brand stand for?


What business(es) should we be in where we can win?


What business(es) should we not be in because we cannot probably win even though we could compete in those businesses?


What are the priority markets that offer the best opportunities for profitable growth?


What markets will we not pursue for the next few years?


At a high level, how should we organize to implement the business strategy?


What are the fewest changes that will make the greatest difference in the next 18 months that will enable our ability to implement the basic business strategy?
Damon requested that we design and facilitate a large group intervention that would engage a group of 55 of the key employee stakeholders to begin to answer these questions.

Overview of the First Two-Day Offsite Meeting / Large Group Intervention # 1

Damon's purposes for the meetings were several:
Test the readiness to change among the key internal stakeholders of Mushroom.


Increase employee understanding of, participation in, and ownership of the multiple changes the business and they would need to make to meet the growth targets.


Obtain initial agreement on the magnitude of change necessary.


Generate or confirm a personal sense of urgency by participants to improve Mushroom's capabilities for growth.


Improve participants' perceptions that the emerging Mushroom leadership team is initially aligned around the types of changes that will be required.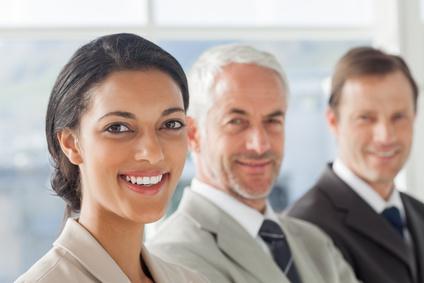 In partnership with Damon and his SVP Human Resources, Janet Tate, I took the lead in designing a large group interactive meeting for 55 of Mushroom's key stakeholders. In most circumstances where we had more time, a design team composed of a representative diagonal cross-section sample of the respective stakeholders would have been engaged to provide input and suggestions to design alternatives given the intended purpose and outcomes of the meeting. This was intended to increase the probability of designing to the starting needs of the audience. Their facilitated and guided involvement typically would also result in an increased sense of ownership - and it becomes "their meeting" and not the coach's meeting. Instead, due to time constraints, I designed the meeting to be reviewed by Damon and Carol and revised and approved before implementation.

Premeeting Instructions

LargeGroup Intervention Meeting #1
Janet and I collaborated with Damon in creating an announcement and invitation email to all participants a few weeks before the scheduled meeting in three weeks (to be held in the third week of June). The email conveyed the questions delineated for the "shell strategy" (stated above) as well as the expectations for full participation by all participants in helping to answer those questions.
In addition, private instructions for the BU General Managers (consumer automotive; big rig; taxis and limos; and busses and passenger vans) were to prepare a 15 to 20 minute overview of essentially a SWOT analysis of their respective BU:
a. What business are we in?
b. How does Mushroom currently define its markets? What are our customer requirements?
c. Description of current and near future opportunities?
d. What are the perceived possible threats to our business in these markets?
• Competitive threats
• Possible changes in customer preferences of valuing of our products and services
• Technology dislocations
• Political / governmental barriers

e. What are our competitive strengths in the markets?
f. What are our competitive weaknesses in the markets?
g. What do we not know that we want to know?
Executive Summary of the Meeting Design and Process



Monday Evening
1. Welcome and Introductions
2. Developing a Common Sense of Mushroom's History: Time Line Exercise
Tuesday
3. Bridge forward from Damon's Mushroom Senior Management Presentation in May
4. BU perspectives on where Mushroom is positioned in the respective market places
5. Our vision of a successful Mushroom in the next five years
6. Organizational diagnosis of the current state of Mushroom
Wednesday
7. Improving Performance at the Interfaces
8. Culture and Values [Guiding Principles and Behaviors]
9. Action Plans / Next Steps / Back-Home Group Commitments / Individual Commitments
10. Evaluations / Ending / Close and "Thank You"
After Damon's introductory remarks, I provided an overview of the intended process and outcomes of the next evening and two days. The emphasis was on participation, building a common understanding of the current need for change, the intended near term future state as a result of the changes, and growing ownership for contributing to those changes.

Meeting Process 2: The Timeline Exercise

To set the tone for the rest of the meeting, we began with the "Timeline Exercise." This exercise uses a three foot high by thirty foot wide piece of paper with a timeline drawn on it beginning several years before Mushroom was formed as a business, with today's date in the horizontal center, and space for the next five years into the future to the right of center. Each participant was given three very differently-colored post-it notes:
yellow
to write their name on to indicate when they joined the company,
blue
to describe some event or accomplishment that they were proud of, and
pink
for a missed opportunity. This could be applied to the past, present, and anticipated future. Each person would post at least one post-it note of each color, and more if they wanted.
Time was allocated for people to write down their responses and cocktails were served. When everyone was ready, the entire group gathered around the time line and each participant went up one at a time for them to describe and place their notes on the timeline. One-by-one the participants identified themselves by name, the year when they joined the company (placing their yellow post-it with their name on the time line), their observations of past or current "prouds" and "missed opportunities," and projected desired future "prouds" and concerns for "possible missed opportunities" in the near future. Upper management was encouraged to go last so as to not bias anyone else's responses.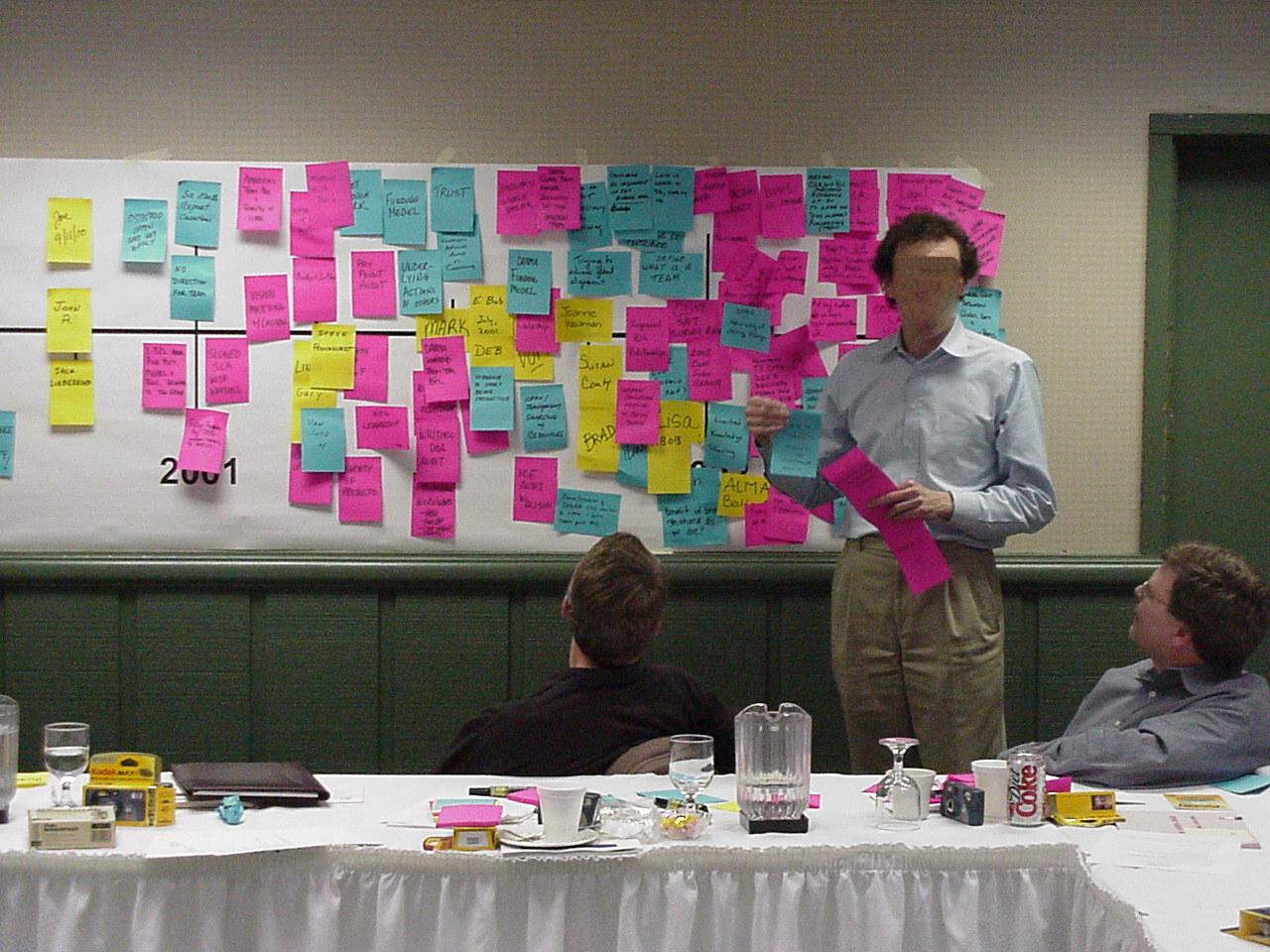 There is something very powerful and maybe even primordial about posting on the wall - like cave dwellers leaving their hand print outlines on the walls of their cave to mark that they were there. Typically, all participants give their full attention to the presenters as they discover new facets of the business' history and discover new perceptions, interpretations of past events, and desires and concerns about the future from other stakeholders that they may not have known before.

Once the group has created a collective history, members are asked to look for patterns, implications, omissions, or areas for further exploration and discussion. For Damon, he could acknowledge the past accomplishments and begin to assess the readiness for change in the participants. The conclusion of the discussion allowed Damon to seque from all of the different elements of the past and anticipated history to the major overarching theme of the meeting:
"Celebrating the past, and anticipating a different future."
Damon could set the table for the premise that some of what made Mushroom successful in the past was not likely to make Mushroom successful in the face of new challenges in the future. No participants needed to feel that their past contributions and sacrifices were not valued or dismissed as unimportant. That was then, this is now. Now every participant could have a hand in designing the desired future. Damon challenged the group to return for full participation in the next two days to help diagnose the current state and identify the changes needed to achieve a different desired future state.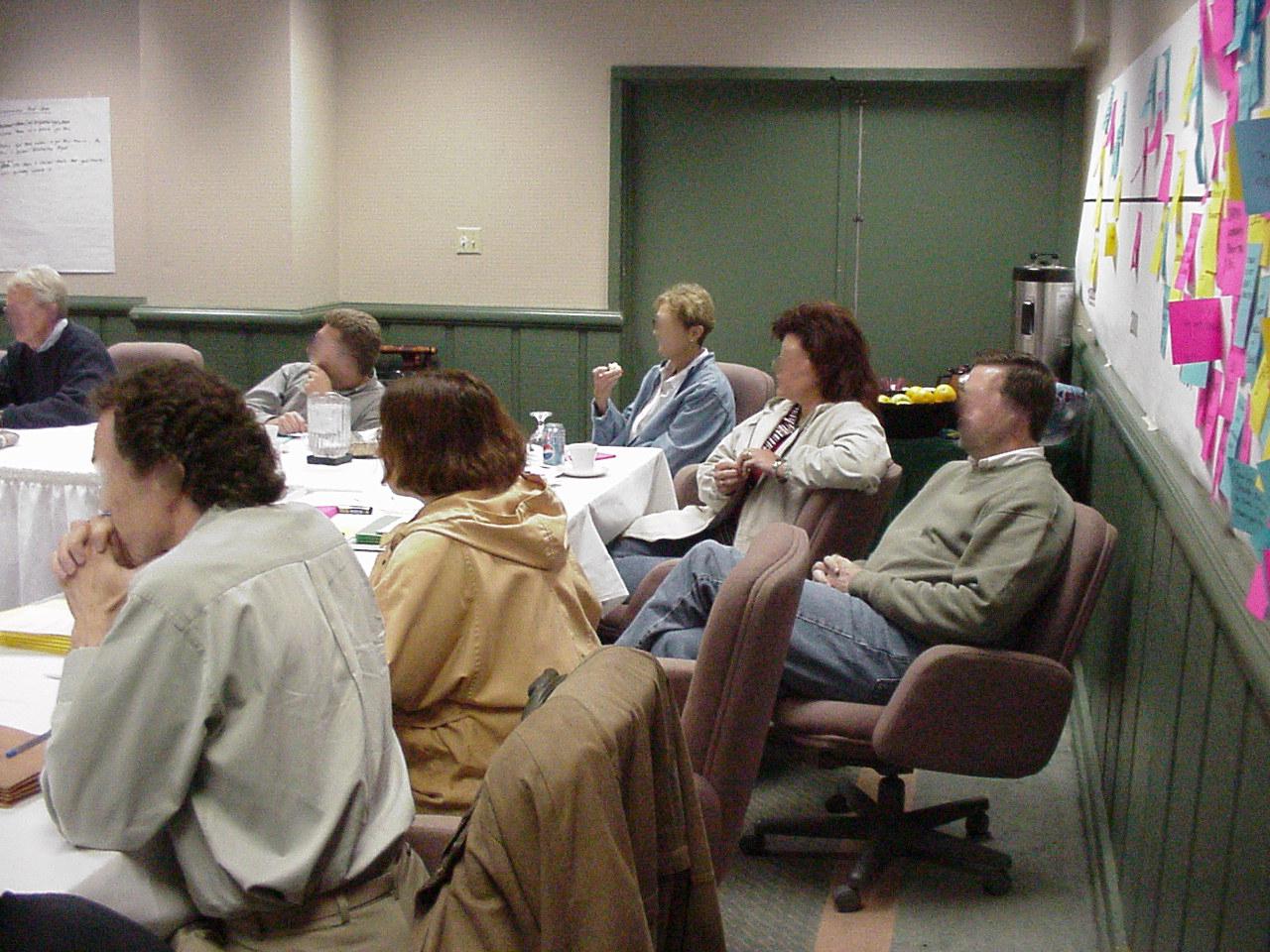 After offering to facilitate the answering of any burning questions now that everyone had a chance to sleep and reflect on last night's discussion, I presented the design of the meeting, its processes, expectations for participants, and desired outcomes.
Meeting Process 3. Bridge forward from Damon's May Senior Management Presentation

The first discussion was intended to create a bridge from Damon's presentation to his 18 person initial executive team "Time for Change: Positioning Mushroom for Future Disciplined Growth" to the current participants. This was an attempt to have all of the 45 key stakeholders understand Damon's initial evaluation of the current state of the business, the opportunities for future success, and changes necessary to get there.

Rationale for the Use of Large Group Meetings - Addressing the Marathon Effect
The Marathon Effect is the common problem of a lead executive getting ahead of the very stakeholders who need to implement the changes by not bringing them along. Damon had been examining, evaluating, and assessing Mushroom like a kid with a Rubik's Cube for almost five months. He had access to the perceptions and information of many more stakeholders than anyone else in the room. Testing and refining his initial hypotheses was like running a marathon. He had been on this journey of discovery for five months almost independent of anyone but select members of his top management team. The danger was that he could be mile 18 and turn around to ask the other 45 people in the room to catch up, while most of them were still at the starting line, surprised that they are suddenly in running shoes and shorts, asking "what race?"

The use of large group interventions is intended to accelerate the discussions that usually occur when communication is cascaded down the organization and feedback or input trickles up. In addition to taking a long time, the process is vulnerable to misunderstanding, distortion, miscommunication, and intentional filtering.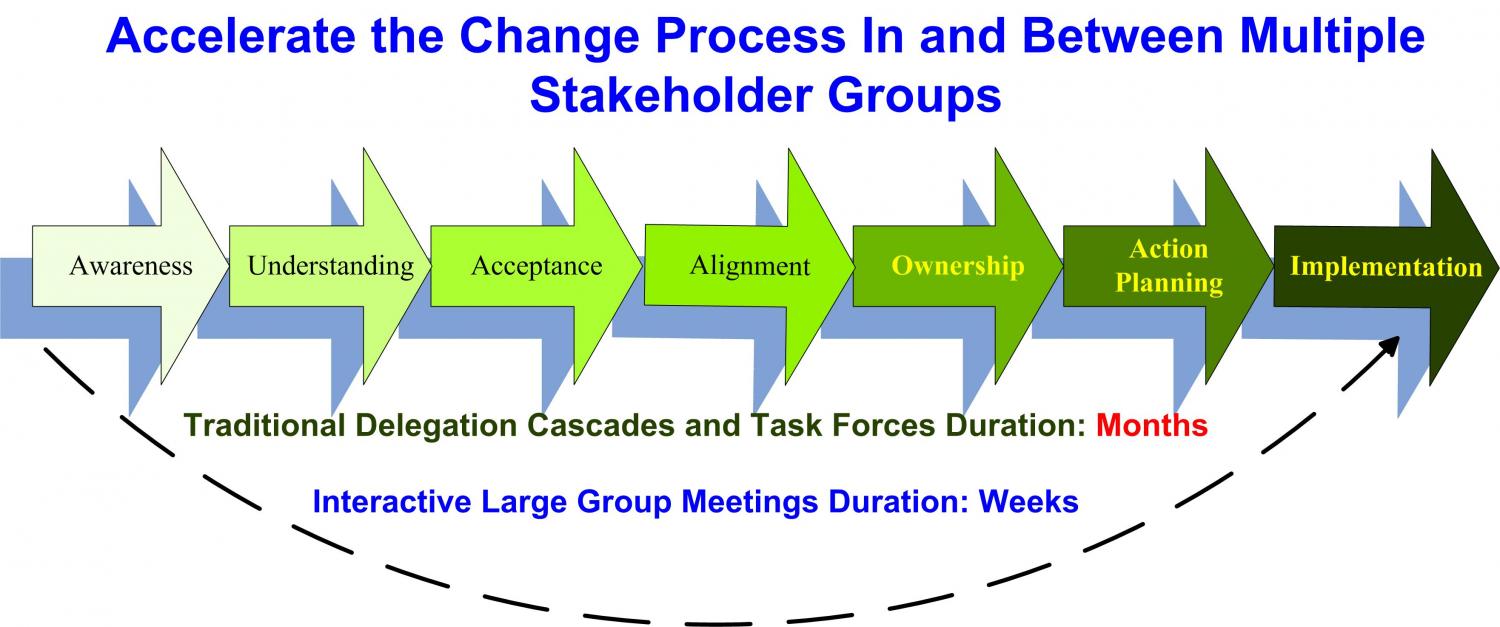 To minimize the "marathon effect," the meetings are designed and redesigned on the fly as needed to start where the audience "is" and move them into discussions and mutual learning as quickly as is possible. The process is intentionally designed to move a critical mass of the stakeholders from Awareness (Damon announced something about changes) to Understanding (Damon says we need more discipline in how we manage the business in order to achieve our growth aspirations) to Acceptance (I have examined the alternatives and this seems to be the best direction) to Alignment (how the larger organizational changes relate to my group and individual responsibilities) to Ownership (I am accountable for my own changes in order to be part of the solution) to Action Planning (what are the specific next steps for the changes I need to make and when) to Implementation (here is what I am doing differently in coordination with a larger change plan and its milestones and timelines).
The emerging, iterative series of meetings are designed to move a critical mass of key stakeholders from awareness to at least action planning over the course of the next several months in preparation for the approval of a renewed strategic business plan and its implementation plans.
So the re-presentation of Damon's "Time for Change: Positioning Mushroom for Future Disciplined Growth" was intended to begin to make the broad audience aware of Damon's point of view. At key points in the presentation, the 45 participants were broken up into pre-assigned small groups to maximize the diversity of the mix of each group in relation to roles, departments, or functions. The groups were instructed to discuss what they just heard, make their understanding among the group members explicit and in their own words, and provide the safety of the anonymity of a speaker from each group announce that "the group (vs. any one individual) has a question about..." (questions for understanding first).

Meeting Process 4. Business Unit perspectives on where Mushroom is positioned in the respective market places

After a break, each of the BU General Managers was asked to stand up and present their 15 to 20 minute elevator speech of an essential SWOT analysis of their business. Perhaps one of the most important questions to be answered is: "What do we not know that we want to know?"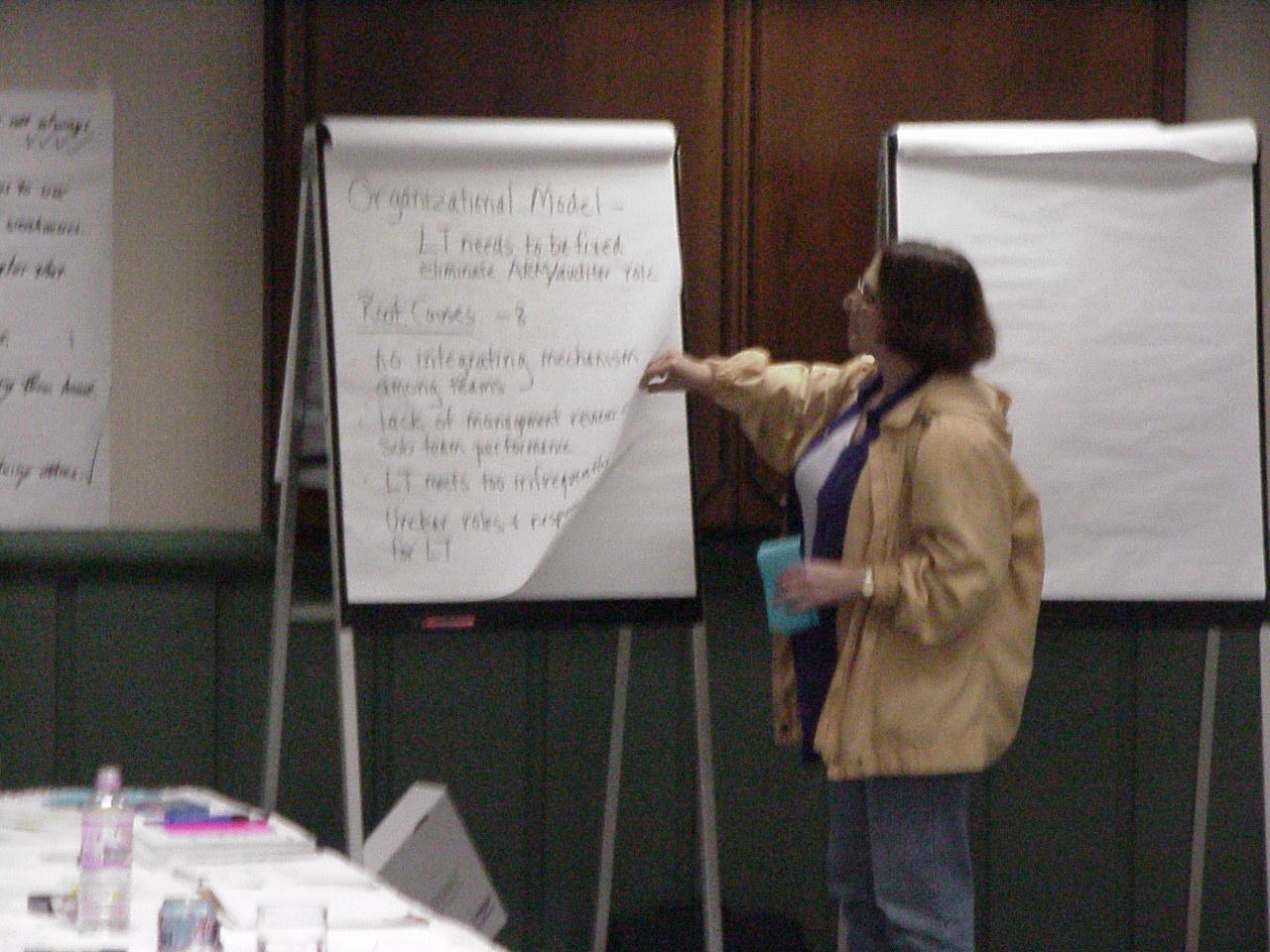 Mary Giffen, GM for the Consumer Automotive BU, was reasonably concise and articulate in answering these basic questions. After she spoke, the participants again discussed in their small groups "What did we hear? What does that mean to us? What do we understand? What questions for understanding or clarification do we still have?" I then facilitated the question for understanding from the spokesperson from each group to Mary.

When Ian McClain, GM for the Bus and Passenger Van BU , stood up, his first salvo was to criticize the request that had been made of him in front of the entire group. He confronted the facilitator by saying that he could not possibly address those questions in 20 minutes, and he was surprised that he had been asked to do such a ridiculous and pointless thing. I pushed back by stating that in my 25 years of consulting experience, any GM who had a mastery of his business should be able to give an spontaneous elevator speech about the current state of the business in the blink of an eye. Was I wrong in my understanding that he had been in this role for 3 years? (I did not bring up the fact that he had received his questions more than two weeks ago and had chosen not to complain or ask for help until now). I proceeded to respectfully ask him each question and keep him focused on as simple a response as was possible. Damon did not intervene.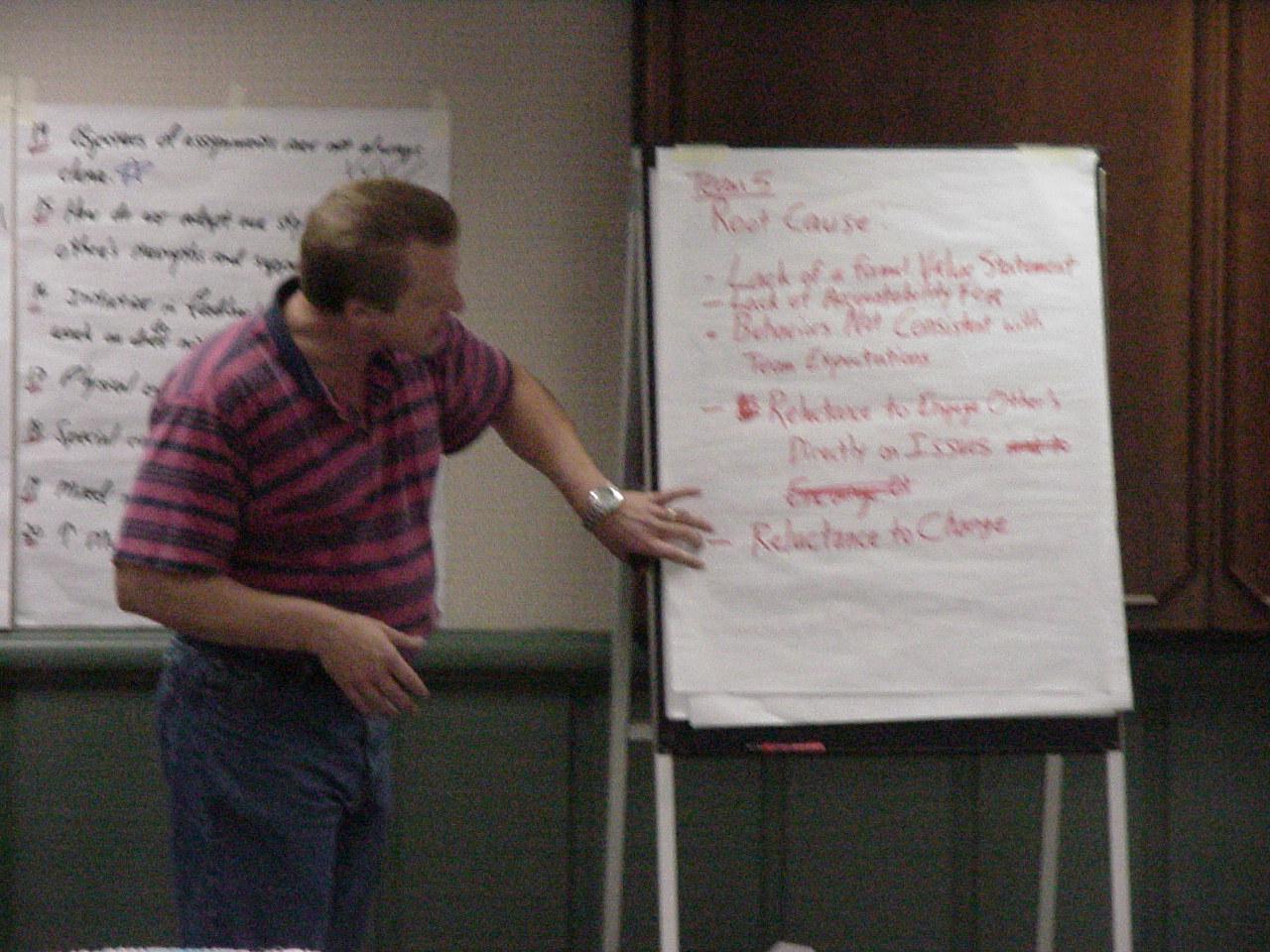 ### Incomplete - To Be Continued ###