Lonely Journey of the Executive as Change Agent
And How an Experienced Executive Coach Can Help
Tuesday, October 29, 2013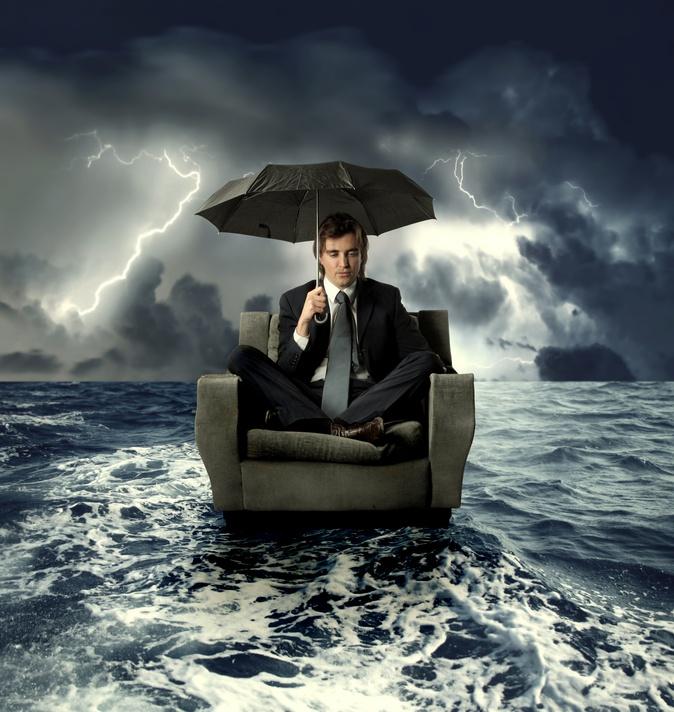 Feeling "out on a limb" or "up against a brick wall?"
Are you hailed by the Board of Directors as a "wunderkind" or are you wondering if you are bleeding, swimming in a pool of sharks?
Whether you select yourself or others select you into a role to lead significant business change, you have just entered one of the loneliest roles you will ever perform. You will always be leading from the front wondering how much of a "following" you really have, especially when things don't go as planned. The typical probability of 60%+ failure rates
¹
of attempted large scale organizational changes is against you. The root causes of the business problems you are addressing probably include resistance that is more wide-spread, intractable, and involve more stakeholders than you first imagined. You will be daunted by the 3 AM pangs of uncertainty of whether all of these changes you are implementing will, in fact, work. Your sponsors will be impatient, nervous, and have unrealistic expectations for what can be accomplished, with what resources, and within what time lines. Their support will also waver when faced with the inevitable collateral damage typical of significant change. And when you are in the maelstrom of moving parts and tentative allegiances, you will often be unclear as to which levers for change no longer require your attention, and which levers you need to pull next.
A seasoned executive coach with expertise in leading and managing large scale change can serve as an important guide to avoid many of the inevitable landmines and help you employ the best levers to accelerate change. The executive coach's independence and singular commitment to your success, combined with their expertise, can provide a source of clarity and priorities in helping you assess each situation, explore alternatives for influencing others, and move the change process forward. They bring frameworks, tools, and an ability to draw out your best thinking and leadership skills. You bring deep knowledge of, and intimacy with, the business, it processes, its culture, and its stakeholders. If successful, your relationship with the coach becomes a partnership.
Examples of the Change Agent Executive / Independent Coach Partnership
* All identifying information for each individual and their business in these examples has been changed to assure anonymity. Any similarity between these examples and someone you may know is an indication that these experiences and situations are not that uncommon.
© Copyright Wiznami Inc. 2013
---
Footnotes:
1. Most businesses find the creation and management of organizational change daunting. Studies have shown the failure rates to typically be in the 66% to 75% range. The following are some examples.
Ø John Kotter [Harvard Business School] studied more than
one hundred top management-driven "corporate transformation" efforts
.
o Conclusions from his review:
§ More than half did not survive the initial phases;
§ A few were "very successful;"
§ A few were "utter failures;" and
§ The vast majority lay "…somewhere in between, with a distinct tilt toward the lower end of the scale."
John P. Kotter, Leading Change: Why Transformation Efforts Fail, Harvard Business Review, Mar/April 1995, p. 59.
Ø Total Quality Management [TQM] - Two independent studies in the early 1990s, one by Arthur D. Little and the other by McKinsey & Co., found that about 2/3rds of the hundreds of TQM programs studied ground to halt because of failure to produce their hoped for results.
Senge, Peter. "The Life Cycle of Typical Change Initiatives" in Senge, P; Kleiner, A., Roberts, C.; Ross, R.; Roth, G.; and Smith, Bryan. The Dance of Change: The Challenge of Sustaining Momentum in Learning Organizations. New York, Doubleday/Currency, 1999; 5-6.
Ø Reengineering -
One of the founders of reengineering has reported the failure rate of reengineering efforts to be approximately 70%.
Champy, J. "Reengineering: A Light That Failed," Across the Board, v32n3, March 1995, pp. 27-31.
75% of reengineering, total quality management (TQM), M&As, and downsizing efforts have failed entirely or have created problems serious enough that the survival of the organization was threatened.
National Research Council: Druckman, Daniel; Singer, Jerome E.; and Van Cott, Harold [Eds.] Enhancing Organizational Performance. Washington, D.C.: National Academy Press, 1997.
Wiznami Inc. is an a senior executive coaching service based in the greater Chicago area.